Not Found
Sorry, but there are no results matching your criteria.
May 23, 2013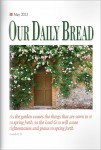 In the spring, shepherds in Idaho move their flocks from the lowlands into the mountains. Thousands of sheep move up the passes into the high country to summer pasture.
Subscribe
Around the World
RBC Ministries has offices in 34 countries, plus partners throughout the world who distribute RBC Ministries' resources. Our signature publication, the daily devotional called Our Daily Bread, is translated into more than 55 languages.